Recently brought to our attention, 
Vértebræ ceramic cable housing
: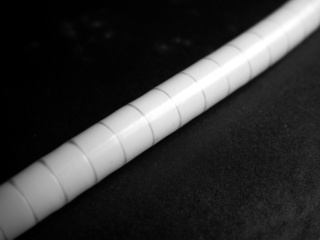 The maker claims it's "
Longitudinally compressionless yet laterally ultra-flexible and also totally corrosion free!"  That, I don't debate.  But the price is something to consider: 

€220

for a complete set.  That's about $US 300.  That buys a lot of replacement traditional cable housing.
Maybe most interesting of all is that the business is run out of the
Canary Islands
.
Photo from http://www.vertebr.ae/